Teaching Excellence: A Collection of Essays on College Education, written by Recipients of the California State University Trustees' Outstanding Professor Award. Edited by Michael Flachmann. California State University Institute, Long Beach, CA. Illustrations. iv + 167 pp. 14.7 ´  22.4 cm.; paperbound; ISBN 0-9661857-0-6. $30; including tax, postage, and handling; order from and make check payable to Dr. Michael Flachmann, Department of English, CSU Bakersfield, 9001 Stockdale Highway, Bakersfield, CA, 93311-1099, USA.
George B. Kauffman, California State University Fresno, george_kauffman@csufresno.edu
On September 9, 1963 the California State University statewide Academic Senate instituted annual Outstanding Professor Awards to be awarded for "achievement in teaching, scholarship, and service to institution, community, and nation" to two professors from each of the different campuses. The awards "have traditionally honored superb teachers who are also heavily involved in scholarship and/or service."
During the period 1964–1995, of the 64 awards in 21 academic subject areas, more than a third (24 or 37.5 percent) went to science professors, with chemistry living up to its name of "the central science" by leading the disciplines in the number of awards (11 or 17.2 percent). In the volume under review here, sixteen Outstanding Professors have contributed essays on crucial aspects of the teaching process. For the six essays by scientists (almost a third of the volume), the title, author, department, and length are given, followed by a brief description. Chemical educators will also find valuable pedagogical insights in those essays by the nonscientists (sociology, psychology, geography, English, philosophy, history, and music).
(1) "Successes and Failures in Teaching," Richard G. Botzler, Wildlife (12 pp). Disappointments in the classroom often teach the instructor more about the teaching process than successes, especially in the development of cooperative learning and student-centered pedagogical techniques.
(2) "Undergraduate Research in Chemistry," Phoebe K. Dea, Chemistry (5 pp). In the sciences teaching and research are inextricably intertwined, and, with the proper encouragement, undergraduate students can frequently make important discoveries.
(3) "An Introduction to the Art of Scientific Research: A Personal View," George B. Kauffman, Chemistry (15 pp, the longest essay). Because the goal of a college education is to instill in students the ability and flexibility to apply creatively the principles of their chosen professions rather than to have them memorize a rigidly circumscribed body of knowledge, participating in original research is a prerequisite for a successful career in any field requiring independent thought.
(4) "The One-On-One Chemistry Classroom," Thomas Onak, Chemistry (4 pp). How to obtain financial grants to help provide one-on-one interaction with students at both undergraduate and master's degree levels, which catches them up in the "discovery" aspect of their instruction and can lead to satisfying careers.
(5) "How to Set Up a Laboratory Teaching Program That Results in Student Publications," Steven B. Oppenheimer, Biology  (4 pp).  An explanation of how to teach large numbers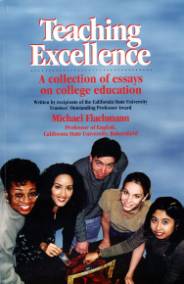 of students to perform hands-on group biomedical experiments, such as those with the sea urchin embryo, with minimal training, supervision, and financial support
(6) "What Is the Responsibility of University Faculty to Pre-College Students and Teachers?" David L. Pagni, Mathematics (4 pp). Methods in which greater attention to the education of primary and secondary teachers can help minority and disadvantaged youths achieve their full potential and eventually attend college, hopefully in the CSU system.
(7) "Reflections on Teaching Chemistry," Lloyd N. Ferguson, Chemistry (4 pp). Why the CSU, Los Angeles Chemistry Department has been so successful in teaching, attracting external funding, encouraging minority applicants, and publishing student/faculty coauthored articles and how it has won six statewide Outstanding Professor Awards.
In his 4-page preface Professor Flachmann presents a history of the Outstanding Professor Awards. He also provides a 2-page conclusion, "Teaching in the Twenty-First Century," which advances six "truths" about the process of good teaching that should remain as valid in the future as they are at present. A 9-page compendium of photographs, brief biographies of the contributors, and a 4-page list of all winners of the CSU Trustees' Outstanding Professor Award, from its inception through 1994–1995, conclude the book.
In his foreword to the collection, which he characterizes as representing "the best of college teaching in the California State University [System] and perhaps the entire nation as well," CSU Chancellor Charles B. Reed recommends it "to anyone interested in the current practice and future direction of post-secondary education in the United States." This outstanding and pedagogically important, but modestly priced volume by the CSU's crème de la crème deserves the widest possible exposure in educational circles. I heartily recommend it to new instructors and experienced teachers alike.